Difference between revisions of "BCMBoK 3: Business Impact Analysis"
Jump to navigation
Jump to search
Line 46:
Line 46:
 
 
 

<br><br><br>

 

<br><br><br>

−

== BCMBoK 3: Business Impact Analysis Definitions ==

+

== 3: Business Impact Analysis Definitions ==

 
 
 

=== BCM Audit ===

 

=== BCM Audit ===
---
Revision as of 13:33, 27 December 2015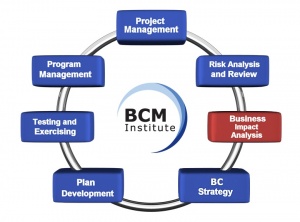 Body of Knowledge Menu| BoK 1 | BoK 2 | BoK 3 | BoK 4 | BoK 5 | BoK 6 | BoK 7
Certification Menu | BCCP | CMCP | CCCP | DRCP | BCCS | CCCS | CMCS | DRCS | BCCE | CMCE | CCCE | DRCE | BCCA | BCCLA Competency Level Menu | CL 1B | CL 2B | CL 3B | CL 1C | CL 2C | CL 3C | CL 1CC | CL 2CC | CL 3CC | CL 1D | CL 2D | CL 3D | CL 2A | CL 3A
1. Business Continuity Management Body of Knowledge 3 or BCMBoK 3 provides the minimum expectation for a BCM professional in the area of Business Impact Analysis.
Implement business impact analysis process.

Understand the principles and scope of the BIA process.
Apply the BIA implementation process.
Understand the available BIA data collection mechanisms.
Determine and apply the appropriate BIA data collection mechanism.
Design a custom tailored BIA questionnaire.

Gather BIA Information.

Identify activities that support Critical Business Functions (CBF) and identify owners.
Determine impacts of a disruption to each activity/process across the organization that may damage organization's reputation, assets or financial position.
Quantify timescales where interruption becomes unacceptable to the organization.
Determine key requirement for organization-wide tolerable downtime.
Determine Inter-dependencies and intra-dependencies.
Identify vital records needed for recovery.
Identify and document CBFs, critical processes and critical application.

Determine continuity resources.

Provide the resource information to determine or recommend Business Continuity Strategy.
Identify internal and external resource requirements to support activities.
Quantify the people, technology, and telephony resources required over time to maintain business activities at an acceptable level and within the maximum tolerable period of disruption.

Seek Executive Management Approval.

Seek sign off of requirements by process owners.
Present requirements to executive management and seek approval to adopt the findings as the basis for determining a BC strategy.
Related Terms: Business Impact Analysis.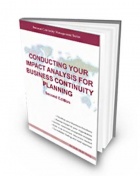 Courses

Guidance Notes and Templates
Body of Knowledge 3: Business Impact Analysis Definitions
BCM Audit
CL One (1) | * CL Two (2) | * CL Three (3)
Business Continuity
CL One (1) | * CL Two (2) | * CL Three (3)
Crisis Management
CL One (1) | * CL Two (2) | * CL Three (3)
Crisis Management
CL One (1) | * CL Two (2) | * CL Three (3)
Disaster Recovery
CL One (1) | * CL Two (2) | * CL Three (3)
BCM Body of Knowledge 3: Business Impact Analysis Definitions
Competency Level (CL) 1
Competency Level (CL) 2
Competency Level (CL) 3
Revision Notes