Business Continuity Certified Auditor
From BCMpedia. A Wiki Glossary for Business Continuity Management (BCM) and Disaster Recovery (DR).
Course Description: ISO 22301 BCMS Audit | ISO 22301 BCMS Auditor

Certification Menu | BCCP | CMCP | CCCP | DRCP | BCCS | CCCS | CMCS | DRCS | BCCE | CMCE | CCCE | DRCE | BCCA | BCCLA
Competency Level Menu | CL 1B | CL 2B | CL 3B | CL 1C | CL 2C | CL 3C | CL 1CC | CL 2CC | CL 3CC | CL 1D | CL 2D | CL 3D | CL 2A | CL 3A
Body of Knowledge Menu| BoK 1 | BoK 2 | BoK 3 | BoK 4 | BoK 5 | BoK 6 | BoK 7 Level of Expertise Menu | KNOW | DO | MANAGE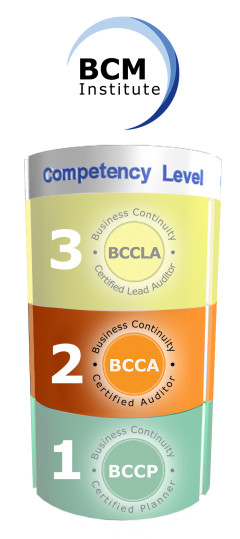 Back
Requirements for BCCA

The Business Continuity Certified Auditor (BCCA) certification is designed and developed for auditors, BCM professionals, middle management, department representatives, business unit coordinators, Business Continuity/Disaster Recovery managers and planners with auditing and/or reviewing the business continuity management system. Candidates will be imparted with essential skills and knowledge to audit and review a business continuity plan. Candidates will also be introduced to the key concepts of developing business continuity and disaster recovery strategies, design and implementation of BC plans, preparing and conducting awareness and training programs (if they have not attended any of institute's BCM certification courses.)
Participants who were awarded BCM Institute's BCCP, BCCS or BCCE can be exempted from attending the BCM-200 1-day course. Candidates must be aware that the fees may not be reduced whether he or she is already been certified by the institute.
Criteria
The individuals should have met and continue to meet the following requirements regarding:
Fee Payment
Award of Electronic Certificate
Only an electronic certificate or e-certificate (softcopy) will be issued for all successful application. However, a hardcopy certificate is also available upon request from the online store: SGD 50 (not inclusive of courier charges)