Crisis Management Certified Expert
From BCMpedia. A Wiki Glossary for Business Continuity Management (BCM) and Disaster Recovery (DR).
Course Description: Crisis Management | Crisis Management Manager | Crisis Management Expert Implementer

Certification Menu | BCCP | CMCP | CCCP | DRCP | BCCS | CCCS | CMCS | DRCS | BCCE | CMCE | CCCE | DRCE | BCCA | BCCLA
Competency Level Menu | CL 1B | CL 2B | CL 3B | CL 1C | CL 2C | CL 3C | CL 1CC | CL 2CC | CL 3CC | CL 1D | CL 2D | CL 3D | CL 2A | CL 3A
Body of Knowledge Menu| BoK 1 | BoK 2 | BoK 3 | BoK 4 | BoK 5 | BoK 6 | BoK 7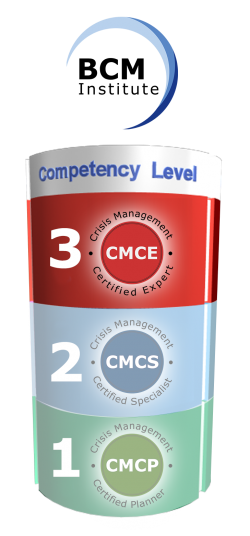 Back
Requirement for CMCE
The Crisis Management Certified Expert (CMCE) certification is designed and developed to instill pertinent concepts and knowledge in CM and BCM practitioners; which will enable them to drive organizational-wide CM programs; develop crisis, business continuity and recovery strategies; develop and implement comprehensive CM plans; develop and implement CM awareness and training programs; conduct exercises and tests; implement CM audit and assessment programs to ensure CM plan effectiveness. This course is designed and developed to train CM and BC managers, planners, and project managers.
Criteria
The individuals should have met and continue to meet the following requirements regarding:
Successful completion of the CM-400: Crisis Management Manager (duration 2.5 days including half-day examination) or CM-5000 Expert Implementer (duration 5 days including half-day examination)
Successful completion of the CMCE examination with a required passing score of 75% out of 150 Multiple-choice Questions (MCQ)
At least 3 years experience in crisis management (CM), business continuity management (BCM) and/or disaster recovery planning (DRP)
Fee Payment
Award of Electronic Certificate
Only an electronic certificate or e-certificate (softcopy) will be issued for all successful application. However, a hardcopy certificate is also available upon request from the online store: SGD 50 (not inclusive of courier charges)