Fajar Atrifani
 Fajar Atrifani is currently BCM Expert Team in one of regional bank. Having more than 11 years banking experience in different area including BCM project, operational & credit risk management, finance, business, IT, and Operations. Fajar was involved to support his bank for BS:25999 Certification in Treasury Unit as the first Indonesian Banking that achieved the certification.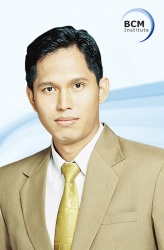 Appointment within BCM Institute

Fajar is an Instructor with BCM Institute.

Past Employment
Lippobank BCM Project Team

Manager in Operational Risk Management

Manager in Retail Credit Policy & Procedure

CIMB Niaga Bank BCM Expert Team

Qualification
Bachelor of Accountancy, STIE Perbanas, Jakarta, Indonesia

Magister Management of Finance, STIE Perbanas, Jakarta, Indonesia

Professional Certification
Risk Management Certification Level I

Business Continuity Certified Specialist (BCCS)
Presentations and Publication

Internal BCM Socialization
Speaker for "Meet The Expert" BCM Institute Forum Nov, 2011