Difference between revisions of "Data Protection/Recovery Strategy - Category"
Jump to navigation
Jump to search
Line 14:
Line 14:
 

*[[Data Replication]]

 

*[[Data Replication]]

 

*[[Database Replication]]

 

*[[Database Replication]]

 
+
 
+
 
+
 
 
 

'''(c)  [[Mirroring]]'''

 

'''(c)  [[Mirroring]]'''
---
Revision as of 04:49, 2 January 2016
1. The Data Business Continuity Strategy and Data Protection categories includes the following:

(a) Data Backups
Physical Offsite Vaulting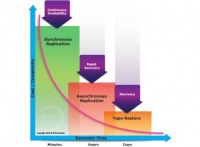 (b) Replication

(c) Mirroring
(d) Resilient Storage Implementation
Redundant power supplies
Redundant server connection
(e) Cloud-based Disaster Recovery
Do-It-Yourself
Cloud-to-Cloud DR
Note (1): Replication is used when the RTOs are very short and RPOs very time sensitive. Replication can be synchronous replication or asynchronous replication. Synchronous Replication means that the application will receive simultaneous confirmations for data written simultaneously to either disks or locations. Asynchronous Replication means that the application will receive a confirmation from the primary write first, and the secondary write later, as the secondary write might be to an alternate site located a hundred kilometres away; thus, the confirmation of the second write is going to take longer time. The reason for the selection of asynchronous replication option is to minimize the impact on the performance of the primary application (do not need to wait for the secondary write before proceeding) as this machine is usually machine-critical.
Note (2): In extending the options of synchronous replication and asynchronous replication, there three are possible level of implementation:
(a) Host level - replication by done at servers level
(b) Array-based level - the use of storage array e.g. Redundant Arrays of Independent Disks (RAID) and specialized software that will do array-to-array based replication
(c) Fabric level - This is done to the fabric itself, for example, the SAN fabric or Virtualization, which intercept or re-divert I/Os and go to another fabric and then there is little reliance on a particular server or a particular array.

2. Statutory requirements to manage personal data in a manner that does not threaten or disadvantage the person to whom it refers.
(Source: Business Continuity Institute - BCI)