BCMpedia
Jump to navigation
Jump to search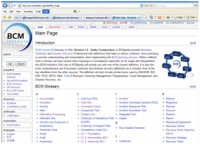 BCM Institute's Glossary in Wiki or BCMpedia provides Business Continuity and Disaster Recovery Professional with definitions that helps to reduce confusion, thus promoting a common understanding and interpretation when implementing the BCM planning process.
Objective of BCMpedia
While a defined word or phrase can have several other meanings or connotations especially on its usage and interpretation, this BCM Institute's Wiki site or BCMpedia will provide you with one of the closest definition. It is also the most comprehensive set of business continuity and disaster recovery definitions as it includes most of the key definitions from the other sources. The glossary is part of the BCM Institute's training curriculum.
Related Terms: BCM Institute.
References
The definition will also include similar terms used by ISO22301, BS25999, TR19, NFPA 1600, ASIS Business Continuity Management: Preparedness, Crisis Management, and Disaster Recovery, BCI, DRII etc.
These are the description of the navigation buttons:
Sitemap: Resources
These are the description of the navigation buttons:
Sitemap: Certification
These are the description of the navigation buttons:
Sitemap: Examination
These are the description of the navigation buttons: