BCMpedia. A Wiki Glossary for Business Continuity Management (BCM) and Disaster Recovery (DR).:About
Jump to navigation
Jump to search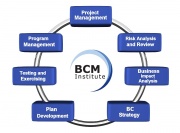 BCM Institute is a leading global Business Continuity (BC) & Disaster Recovery (DR) Institute. Established in 2005, BCM Institute promotes and develops the disciplines of Business Continuity Management (BCM) and Disaster Recovery Planning (DRP) for a variety of industries and clients around the world.

BCM Institute differentiates itself by having a pool instructors who are highly regarded BC and DR professionals. It offers a wide range of quality BC and DR training solutions, including the globally recognized BCCP/DRCP, BCCS/DRCS and BCCE/DRCE accreditations. In less than three years, BCM Institute has trained and certified over 1000 professionals from 35 Countries. They come from over 470 companies in industries ranging from Oil & Gas, Healthcare, Utilities and Manufacturing, to Banking & Finance, Technology (IT) and Telecommunications.

With its Asia-Pacific operations headquartered in Singapore, BCM Institute has a growing global footprint with wholly owned offices in Malaysia and Thailand, and joint venture/representative offices in China, Hongkong, India and the Philippines. BCM Institute's training is also available in the Middle East (Bahrain, Dubai), South Africa and the UK, with representation in Australia, Indonesia, New Zealand, Pakistan, Vietnam, the UK and the US starting in 2008/2009.