Hoo Chuan Wei
Jump to navigation
Jump to search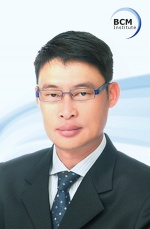 Chuan Wei has 22 years of IT experience, assuming various IT management roles in the financial and telecommunication sector regionally; and also serves as an adjunct lecturer with ISS and Temasek Polytechnic.
Currently, Chuan Wei is the CISO for ST Engineering. Previously, he is the Security Information Officer (SIO) for British Telecom Global Services, serving 1 huge financial institution in APAC; providing advisories and consultancy. His financial background includes working in a Japanese bank's technology arm, UOB and Standard Chartered Bank where he was responsible for the strategic planning and review of IT security initiatives and operation management, as well as performing compliance reviews and support of internal and external audits.
Voluntary Appointment within BCM Institute
Chuan Wei is currently an instructor with BCM Institute.
Other Voluntary Appointments
Chair of Security Controls Services working group under the ITSC-SPSTC umbrella
Adjunct Lecturer with ISS
Adjunct Lecturer with Temasek Polytechnic
Past Employment
Senior Manager at Shinsei Technology Services
VP, United Overseas Bank
Manager (Systems Security), Corporate Security, Nortel Networks
IT Security and Data Control Manager, Standard Chartered Bank
Qualification
Bachelor, Information Technology, University of Southern Queensland
Professional Certification