Risk Treatment
Jump to navigation
Jump to search
1. Risk Treatment is the selection and implementation of appropriate options for dealing with risk.

The options for the Risk Treatment includes :

Related Terms: Risk Management, Risk Tolerance, Residual Risk.

Note (1): Risk Reduction is used as a preferred term to Risk Termination or Risk Mitigation.

Note (2): Often, there will be residual risk which cannot be removed totally as it is not cost-effective to do so, hence, the acceptance of risk.

Note (3): Risk Acceptance is sometimes referred to as Risk Tolerance.

Note (4): The highest rated risks should be addressed as a matter of urgency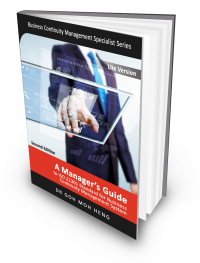 2. Process of selection and implementation of measures to modify risk.
Notes (1) : The term "risk treatment" is sometimes used for the measures themselves.
Notes (2) : Risk treatment measures can include avoiding, optimizing, transferring or retaining risk.
(Source: ISO 22399:2007 – Societal Security - Guideline for Incident Preparedness and Operational Continuity Management) - clause 3.42
3.
Process to modify risk (2.1)
Notes (1)
 : Risk treatment can involve:
avoiding the risk by deciding not to start or continue with the activity that gives rise to the risk;
taking or increasing risk in order to pursue an opportunity;
removing the risk source (2.16);
changing the likelihood (2.19);
changing the consequences (2.18);
sharing the risk with another party or parties (including contracts and risk financing); and
retaining the risk by informed decision.
Notes (2)
: Risk treatments that deal with negative consequences are sometimes referred to as "risk mitigation", "risk elimination", "risk prevention" and "risk reduction".
Notes (3)
 : Risk treatment can create new risks or modify existing risks. [ISO Guide 73:2009, definition 3.8.1] (
Source
: ISO 31000:2009 – Risk Management — Principles and Guidelines) - clause 2.25
4. The selection and implementation of appropriate options for dealing with risk.
(Source: Singapore Standard 540 - SS 540:2008)
5. The selection and implementation of relevant options for managing risk. The key treatments include:

(Source: Business Continuity Institute - BCI)

6. A systematic process of deciding which risks can be eliminated or reduced by remedial action and which must be tolerated.

(Source: ENISA - the European Network and Information Security Agency. BCM & Resilience Glossary)