Abdul Hamid Abdullah
Jump to navigation
Jump to search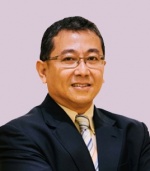 Abdul Hamid Bin Abdullah is an Executive Advisor (Risk Management, Audit and Regulatory Technology), Straits Interactive Pte Ltd which delivers data protection services and end to end governance, risk and compliance solutions that enable businesses to create a trusted business environment. He has recently retired from an audit director's role in the Auditor-General's Office of Singapore with 38 years of auditing experience in the public sector, including financial statements audit, compliance audits, IT and information security audits, performance audits, and other operational audits.He is a Certified Information Systems Auditor (CISA), a Chartered Accountant of Singapore (CA Singapore) and a Fellow of the Institute of Internal Auditors (FIIA) Singapore.
Professional Involvement
Abdul Hamid was an International Vice-President of the Information Systems Audit and Control Association (ISACA), and also Vice-President of the IT Governance Institute (ITGI) from 2002 to 2006. Prior to this, he served on the ISACA Research Board (1999 – 2001) and was President of the ISACA Singapore Chapter from 1996 to 1998. He served as a Council member of the Association of Information Security Professionals (AISP) from 2008 to 2009. He is a Governor of the Institute of Internal Auditors Singapore (IIAS) since 2004 and currently serves as the Treasurer.
Other Experience
Abdul Hamid was an adjunct lecturer in the Institute of Systems Science, National University of Singapore (NUS) from 2007 to 2017 and an Associate Professor in NUS teaching IT audits to Accountancy students in 2010. He has been conducting CISA Exam review classes for ISACA Singapore Chapter and courses related to IT audit at the IIAS Academy. Currently he is helping the Singapore Institute of Technology to develop and deliver a course on Information Security Audit and Assurance.
He was a speaker in a number of local, regional and international conferences, mainly related to ISACA and IIA activities.