Business Function
Jump to navigation
Jump to search
2. A description of work that is performed to accomplish one or several business unit's responsibility. Examples of business function includes delivering raw materials, paying bills, receiving of cash and inventories.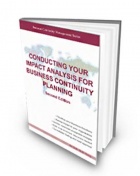 (Source: SS540 Singapore Standard on Business Continuity Management - SS 540:2008)
3. A business unit within an organization e.g. branch/division.
(Source: Business Continuity Institute - BCI)
4. A business unit within an organization,e.g.,a department,division,branch.
(Source: OGC, Information Technology Infrastructure Library (ITIL) v3)
5. A business function is defined as any set of activities performed by the department that is initiated by an event, transform information, materials or business commitments, and procedures an output (e.g. order fulfillment, invoicing, cash management, manufactured batch, customer response tracking, regulatory submissions, etc).
(Source: Malaysia BCM Standard MS1970:2007)