Critical
Jump to navigation
Jump to search
2. A qualitative description used to emphasize the importance of a resource, process or function that must be available and operational either constantly or at the earliest possible time after an incident, emergency or disaster has occurred.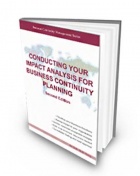 (Source: SS540 Singapore Standard on Business Continuity Management - SS 540:2008)
3. Usually applied to a resource or process that must be kept going (as soon as possible) at time of a Business Continuity (E / I / C).
(Source: Business Continuity Institute - BCI)