Is BCM Institute's Training program relevant and International Acceptable?
Jump to navigation
Jump to search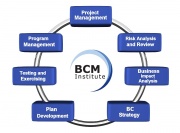 There is always a question on whether the institute's program is compatible to other certification.
Body of Knowledge
The design is based on the 7 level of BCM Body of Knowledge (BoK) which is align to the BCM implementation process. This BCMBok will allow our training to be relevant to the participant when they return to their workplace. After attending our courses, our participants are taught to implement the project and maintain the program on and above basic knowledge acquisition.
Experienced and Certified Instructors
Most of our instructors are certified by not only BCM Institute but also carries one or more of another institute's certifications. BCM Institute is offering Certification and Non-certification Courses with three level of certification (Planner/Specialist/ Expert) for five types of BCM courses (BCM Audit / BCM / CC / CM / DR) being offered with certification examinations.
Receive the Right Level of Training
The Institute's commitment to allow newcomers to gain the right level knowledge and also any experienced professionals to broaden and upgrade his or her skill set and knowledge is a testimony of our commitment to this industry. The Institute is constantly striving to enhance its syllabus with alignment to the international good practices and international standards. Each course is designed to increment with experience in a specific area of the professional practices. Most importantly, the institute is committed to localized most of the training without any compromised to the international best practices.
An example: In China the course is conducted in "Pudong Hua" or the Chinese language, while in Thailand; it is conducted in the native Thai language. In addition to the language, the case studies are revamped with local examples, local threats and real live scenarios, as we aim to relate the disaster to the respective countries itself. The key principle is to be relevant to the society that the institute operates in. Here is the good news, BCM Institute had already 3000 certified professionals and they are residing in more than 36 countries within a period of 36 months. This is the best testimony on the international recognition that our global certified professionals had given us.

Back >> FAQ about BCM Institute