P.Gunaseelun
Jump to navigation
Jump to search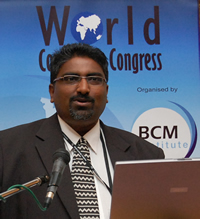 P.Gunaseelun is now attached to EDS an HP company, the largest IT Outsourcing Company in Global Market. He manages the BCP and ITDR for some key Financial Institutions in Malaysia. He was instrumental in establishing the BCP team for EDS ITO Malaysia; together they develop, implement and rehearsed the BCP initiatives in Malaysia.
P.Gunaseelun is one of the founder member of the BCI (UK) in Malaysia. He is currently a member of the Asia Pacific Advisory Board for Asia Pacific BCM of EDS.
Past Employment
With more than 20 years of industry experience in IT and Business Continuity, Guna's first involvement in Business Continuity Management (BCM) dates back 14 years to the year 1992 when he was involved in testing Bank Of Commerce's Contingency Plans in Malaysia.
Professional Certification
Awarded Members of the Business Continuity Institute (MBCI), United Kingdom
Presentation
2009 "Practice Makes Perfect is the Winning Formula for BCM." World Continuity Congress Malaysia, [1]