Philip Kee Tuang Loh
Jump to navigation
Jump to search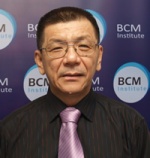 In the past 20 years, Philip has helped many organizations and companies in Singapore, Malaysia, Brunei and China in the implementation of ISO 9000 quality management system. In the process, he trained many people in these countries to become the ISO 9000 consultants, trainers and auditors.
He has conducted numerous training courses on ISO 9000, such as ISO 9000 Awareness course, ISO 9000 Implementation course and ISO 9000 Internal Auditor course. He was a part-time lecturer for the Singapore Polytechnic during 1985 to 1987 and 1991 to 1993.
Philip started to learn the BS 25999 Business Continuity Management standard in 2007 when the Standard was first published by British Standards, and attended the BS 25999 auditor and trainer qualification training by BSI Management Systems in early 2008. Since then, he has conducted few BS 25999 Awareness programmes in Singapore and Malaysia. He was the co-reviewer of the BS 25999 certification audit reports from audits performed by BSI MS India. He has also conducted training base on SS 540 since January 2009.
Appointment within BCM Institute
Philip Kee is an Lead Assessor Instructor for BCM Institute.
Qualification
Bachelor of Engineering (Mechanical & Production) (Hon), 1985
Diploma in Management Consultancy, 1991
Professional Certification
2009 Awarded Business Continuity Certified Expert, BCM Institute
Awarded Certified Internal Auditor, Institute of Internal Auditor
Awarded ISO 9000 Lead Auditor
Awarded BS 25999 BCM auditor and trainer, 2008
Awarded Fellow Certified Management Consultant, 2008
Awarded SQI Certified Coach, 2008
2009, Awarded Practising Management Consultant