Prevention
Jump to navigation
Jump to search
1. Prevention of H1N1 Influenza A. These are some of the ways to protect against H1N1 Influenza A infection is to prevent its spread. It is important to understand that the illness occurs through direct contact with infectious material and respiratory secretions, it is important to practise good personal hygiene. Take these everyday steps to protect your health:
Cover Your Nose and Mouth

With a tissue when you cough or sneeze and dispose the tissue properly in the trash after use.
Hand Hygiene

Wash your hands regularly and thoroughly with soap and water.
Wash your hands before and after preparing food.
Wash your hands after going to the toilet.
Wash your hands before and after eating.
Wash your hands after blowing your nose.
Wash your hands after using your hand when coughing or sneezing.
Contain the Spread of Flu

Use a serving spoon when sharing food from a common dish.
Do not share personal items such as toothbrushes and towels.
Avoid touching your eyes, nose or mouth.
If you are sick, avoid crowded areas and wear surgical mask.
Stay at home and do not go to work or school if ill.
See your family doctor if you have flu like symptoms and if you had recent travel to areas with cases of swine flu.
Build Up Your Immunity

If you are a smoker, quit smoking. It harms you and your family.
Take more fruit and vegetables. Fruit and vegetables are the most power-packed combination of nutrients your body needs for good health.
Drink the equivalent of 8 glasses of fluid daily.
Engage in 30 minutes of moderate intensity physical activity on 5 or more days a week.
Learn to relax and rest.
Keep Your Environment Clean

Do not throw leftover food on the floor or in the open.
Do not leave food in common areas for stray animals.
Do not spit on the floor and common areas.
Throw used masks, tissue or litter into rubbish bins.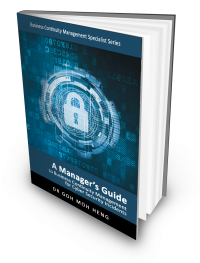 (Source: Health Promotion Board, Singapore)
2. Measures that enable an organization to avoid, preclude, or limit the impact of a disruption.
(Source: ISO 22399:2007 – Societal Security - Guideline for Incident Preparedness and Operational Continuity Management) - clause 3.27