Scenarios and assumptions
Jump to navigation
Jump to search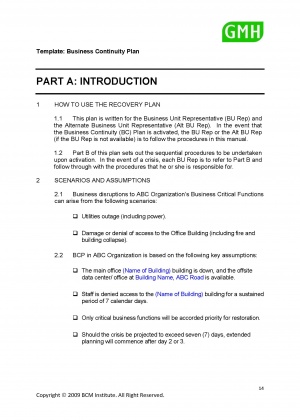 SCENARIOS AND ASSUMPTIONS
Business disruptions to ABC Organization's Critical Business Functions can arise from the following scenarios:

Utilities outage (including power).
Damage or denial of access to the Office Building (including fire and building collapse).
BC Planning in ABC Organization is based on the following key assumptions:

The main office (Name of Building) building is down, and the offsite data center/ office at Building Name, ABC Road is available.
Staff is denied access to the (Name of Building) building for a sustained period of X calendar days. Refer to Key Disaster Scenario
Only critical business functions will be accorded priority for restoration.
Should the crisis be projected to exceed seven (7) days, extended planning will commence after day 2 or 3.